By team-bollywoodlife@corp.india.com (BollywoodLife)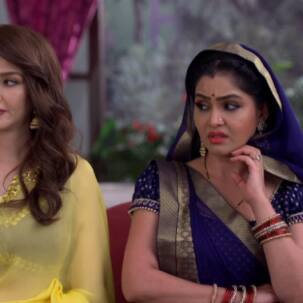 In the previous episode of Bhabi Ji Ghar Par Hain, we saw that Angoori and Anita were worried their husbands will fail in the next challenge. Angoori has to judge Vibhuti's cooking while Anita has to judge Tiwari's cooking. Anita decides to give Tiwari a zero. Hearing this Angoori decides to give Vibhuti a zero too. Anita and Angoori decide together to give their husbands full points. The next task involves all the contestants to sleep in the same bed. Vibhuti and Tiwari end up romancing Tika and Tilu in bed imagining them to be each other's wives.
In tonight's episode, Angoori and Anita scold their husbands for romancing Tika and Tilu. Saxena shows up and says that people like Vibhuti and Tiwari won't be part of the will and are eliminated from the competition. He tells Tika and Tilu that they have been harassed so they get to stay in the competition.
When they go back home, both Angoori and Anita scold their husbands. They both promise to beat each other's wives in the game and win the money. However, Tiwari and Vibhuti say that they don't mind if anyone wins. TIka, Tilu and Malkhan complain about Uncle Lara's weird rules.
They wonder what crazy thing he will ask them to do next for money. When Prem shows up, they tell him to leave saying he is too low class to be in their company. Saxena shows up and says that he recorded them complaining about uncle Lara. he announces that Tika, Tilu, …read more
Source:: Bollywoodlife