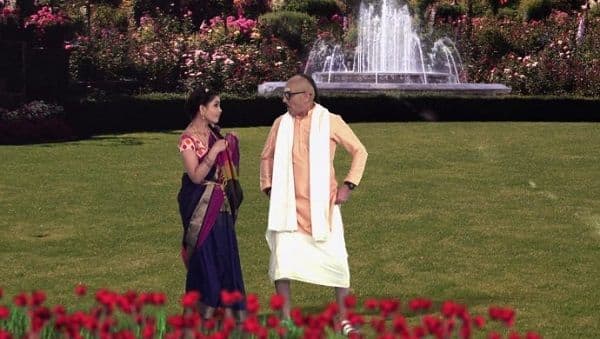 In the earlier episode of Bhabi Ji Ghar Par Hain, we saw that Angoori realises about Vibhuti's condition. You all will know that Vibhuti gets violent whenever he sees anything red. Angoori and Tiwari seek Happu Singh's help for the same. They ask him to dress up as the bride in red. When Happu Singh helps Tiwari by dressing up as a bride, Vibhuti kidnaps him. Angoori follows Vibhuti and manages to lift the curse he was carrying after being attacked by a bull.
Watch the latest episode of Bhabiji Ghar Par Hain here:
In tonight s episode, Vibhuti wakes up in the morning and does his work while singing. He tells Angoori that he needs to complete the process of being with the people in the office. Anu is impressed by Vibhuti s singing and asks him to teach her. However, Vibhuti refuses to do so.
Angoori is watching the movie Padosan. She tells Tiwari that she also wants to learn South Indian Classical Music. Tiwari refuses to let her do so. Vibhuti overhears this and imagines teaching Angoori classical music in a garden and sings a song in his mind. He decides to go as a South Indian music teacher and teach Angoori.
Vibhuti Mishra | Angoori Bhabi | Bhabiji Ghar Par Hain | Bhabiji Ghar Par Hain Written Update 15th July 2019 |
When Angoori spots the music teacher she is excited. He calls himself as Darling and asks Angoori to call him that too. Tiwari refuses to …read more
Source:: Bollywoodlife