By team-bollywoodlife@corp.india.com (BollywoodLife)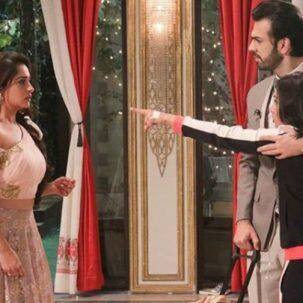 Kahaan Hum Kahaan Tum is one of the most loved shows of recent times. On the show, we will see that Dr Rohit finally decides to confess his true feelings to Sonakshi. But it is easier said than done. Sonakshi will also feel that he loves her but is not professing his feelings. Finally, he will propose to her. Sonakshi will be thrilled and jump around like an excited kid. Veena and the Sippy family will decide to have a celebration around this happy development in Dr Rohit's life. Sonakshi will come dressed in a beautiful gown. However, the romance wil go for a toss as Rayma (Farnaz Shetty) will make her entry.
She will walk in and accuse Sonakshi as one of the culprits of the murderous accident. Rayma will shriek and shout collapsing on the floor. Dr Rohit will be left in a daze. Check out the pics here..
In tonight's episode, we saw how people taunted Rohit saying that if he took time then Sonakshi would get married somewhere. He gets stressed. Finally, he tells her that he might not be perfect but he likes her a lot. Stay tuned to BL for more scoops and updates!
Source:: Bollywoodlife