By team-bollywoodlife@corp.india.com (BollywoodLife)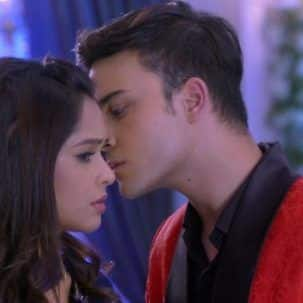 In the last episode we saw that the smugglers push Sarita and Aryan away before escaping. Abhi hands the rope to a guard and runs after the goons. Pragya too hands over the rope and rushes to take Sarita to the hospital. Purab goes with Pragya but Aliya calls him back home. Ranbir tells Rhea that he rejected her only to make Prachi feel he likes someone else. On the other hand, Prachi feels Rhea was badly rejected by Ranbir and decides to talk to her about it. The smugglers return and plan to take Rhea hostage. Abhi decides to go to the hospital to meet Pragya.
Tonight's episode begins with Prachi and Rhea entering a room. Prachi tells Rhea about she saw Rhea and Ranbir together. But before Prachi tells everything, Rhea gets tensed as her friends also listen to their conversation. So Rhea asks her friends to get out of that room. Prachi tries to console Rhea as she feels that Ranbir has hurt Rhea. Rhea learns that Prachi hates Ranbir a lot. Still she asks Prachi not to reveal the secret to anyone else. But Rhea's friends try to overhear the conversation between Rhea and Prachi. Meanwhile, the smuggler shows the photo of the daughter of the priest to his goon. He asks his goon to kidnap the girl as they intend to steal the gold. Meanwhile. Abhi reaches the hospital. While getting down from car, he sees Pragya looking for a cab. But before he reaches to her, Pragya gets into a cab and leaves from there. Abhi tries to call her but she couldn't see him.
While he tries to get into his car and take a U turn, the traffic police stops him. So Abhi gets down from the car. He literally runs …read more
Source:: Bollywoodlife