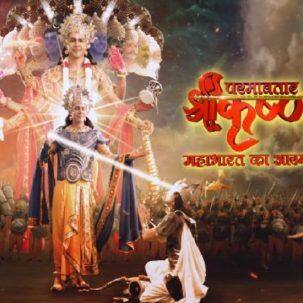 Paramavatar Shri Krishna has become the audience's heart. As much as we loved watching the little Kanha, we also loved the character of Kans which was redefined by the actor Manish Wadhwa.
Currently, on the show, Kanha has come to Mathura to meet his maternal uncle Kans since he has invited him for Malla Yudh (arm fight). The epic fight between the Mama and Bhatija has already begun. During the fight, Kanha tells Kans about his sins in the previous life and tells the story of how he was punished then. Kans in his arrogance keeps on fighting with Kanha thinking this time he will be able to kill Kanha and prove his power to the world. As the battle progresses it gets even more interesting.
The best part of this story (Paramavatar Shri Krishna) is that we already know the ending. Well, today we are going to show what happens after the fight. Take a look at the promo below:
The show will take a leap and our favourite actors like Nirnay and Manish among the others will bid a farewell soon. But we will also see new actors like Ssudeep Sahirwho will be seen playing adult Krishna. In this promo, we see Kanha transforming into Krishna and the show will start with Mahabharat plot. If you thought that the fight between Kans and Kanha was the best then get ready for the battle Mahabharatwhich is also known as the epic battle in the Hindu mythology.
Source:: Bollywoodlife